Accessing AAMUSTED Admission Portal – How to Check AAMUSTED 2023 Admission Status 
Here is how to check AAMUSTED   Admission status 2023 on AAMUSTED Admission Portal. The management of AAMUSTED has released admission letters to all successful applicants who applied for admission into the various programmes of the university.
In this article, Honestynewsgh.com will guide you on how to check your AAMUSTED admission status 2023 on the admission portal.
In checking the AAMUSTED admission status 2023,  applicants will have to login onto the admission portal using their Student Number and PIN.
How to Check AAMUSTED  Admission Status 2023
Below are the steps to guide you to check your admission status on AAMUSTED Admission Portal. 
1. Login into the AAMUSTED Admission Portal 
2. Enter your PIN and Student Number
3. Click login to access the site.
4. Navigate and click on applicant's information.
5. View your admission status, faculty and department.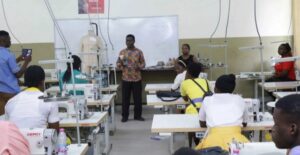 What To Do After Checking Your Admission Status – AAMUSTED Admission Status 2023
1. Accept Admission 
Successful applicants should note that being on the admission list does not guarantee automatic enrolment. However, successful applicants must accept the admission by paying their admission fee.
2. Payment of Fees 
Successful applicants after printing their admission letters are to check for the admission fee of entry and the school's account number to make payment.
Fresh Students are of the liberty to make 50% part payment before they get enrolled. Students must ensure that the other half payment is made by the starting of next semester.
Reopening of AAMUSTED 2023/2024 Academic Year 
Per the release of admission letters, the reopening date for AAMUSTED fresh Students is on January 2024.
The management of AAMUSTED will come out with the official reopening date and the AAMUSTED 2023/2024 academic calendar for first semester.
Students should visit AAMUSTED official website for more information.
AAMUSTED Admission Portal 2023
All interested applicants should note that the management of AAMUSTED has extended the deadline for admission.
The closing date for the sale of admission application forms for 2023/2024 academic year is on 5th January, 2024.
Hence interested qualified persons can purchase an admission e-voucher and apply.
Awaiting Results 
WASSCE and TVET students who just completed and are yet to see their results can also apply as awaiting results.
Recommended
Latest Colleges of Education 2023 Admission List for All Colleges