EDUCATION
GES promotion online registration
Requirements For GES Promotion Registration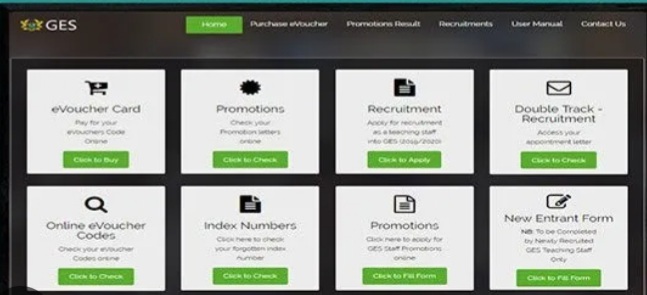 Here are all the requirements for GES promotion onlibe registration all teachers are required to take note.
Few things to note in the GES Promotion online registration 
1.Before visiting the Promotion portal to apply as a teacher, ensure that;
a. Your passport sized photograph is sharply taken with a red or white background, with dimension (250 x 320).
b. Your certified copies of certificates and Promotion letters are scanned in JPEG format, not PDF with size not more than 550kb.
2.When you begin the process of Application, you would be requested to select the rank being applied for.
i. Application code would be required but you need to proceed without typing anything in there. As soon as you start completing the main form, your application Code would be generated.
ii. This code would assist you to get back to the form in case you did not complete all aspects of the form and left with the intention of continuing letter or network challenges.
Under academic qualification, what is required over here are; MSLC, SSSCE, WASSCE, BSC, BA, MA, MSC, MPHIL etc.
Under Professional Qualifications, what is required here are B.ED, M.ED, B.A…. Edu, BSc…. Edu etc.
Under the Attachments aspect of the form, the following would have to be uploaded.
a. Your passport sized picture
b. Your Appointment letter
c. Your certificates
d. Your current Promotion or Upgrading letter.
When you submit the completed form, automatically, GES would send you a message notifying you that you have duly applied. In the short message, you would see your application Code.