EDUCATION
How to check GES Promotion status – 2023 GES Promotion Exams Results Update
GES status check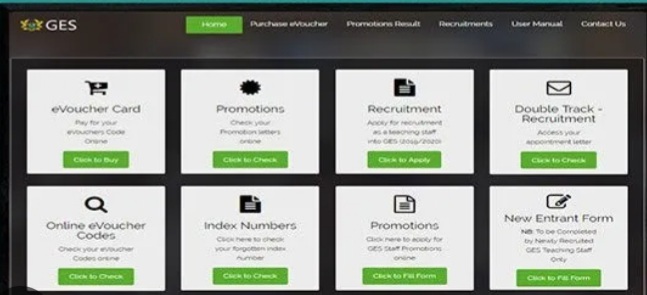 How to check GES Promotion status- 2023 GES Exams Results Promotion Update
Here is the procedure to check GES Promotion status.
Here is the GES Promotion portal 2023/2024 for accessing the various GES Services such as GES recruitment,  GES Postings and GES Promotion of teachers among others.
The Ghana Education Service is yet to release the 2023 GES Promotion Exams Results.
In late February and early March of 2023, teachers seeking to advance their careers and improve their professional qualifications/Ranks took part in the February 2023 promotional exam. The exams were administered by the Examination body and aimed to promote successful candidates to the ranks of Principal, Assistant director II, Assistant director I and Deputy directors.
According to the Examination body, the results are expected to be released after three months of the exams. However the examination body is yet to fulfill its promise.
The release of the results will be a significant determinant of their professional future, and they can only hope that their hard work will pay off.
The examination body in a release dated, 26th April 2023 uncovered that is has reached its territory that some teachers through some dubious means are paying monies to unknown individuals for a pass result. GES in the release emphasized that teachers can only be promoted after they sit and pass their examination, which is organized by the Service. Therefore, any payment made to individuals or groups claiming to be able to influence promotion results should not be entertained.
The GES further stated that it will not be held liable for any payment made to such fraudulent individuals or groups. The letter urged all Regional Directors of Education to bring this notice to the attention of all staff who have sat for the promotion examination in their directorate.
How to check GES Promotion Status
1. Click on this link https://gespromotions.gov.gh/
2. Click on eVoucher Card and Select Promotions
3. Enter Staff ID to confirm Staff's promotion
4. Fill in the appropriate details for payment
4. Proceed to the Promotions Result Page and select your Staff Type, enter your Staff ID and eVoucher number to view and print your promotion letter.
Ges Promotion Portal 2023. Com
1. How to purchase GES Promotion e-voucher
http://www.gespromotions.gov.gh/voucher
2. GES Promotion Portal 2023/2024 For Promotion https://gespromotions.gov.gh/
3. GES Promotion Portal 2023/2024 For Posting https://gespromotions.gov.gh/
4. GES promotion portal for 2023/2024 recruitment. https://gespromotions.gov.gh/
5. GES Promotion Exams Results Portal https://gespromotions.gov.gh/promo
6. GES Non-Teaching Staff PromotionExamsPortal https://gespromotions.gov.gh/promotionsntp
Here are the GES Promotion Contact Details And Address
Here is the official GES contact details
should every teacher having any issues need any further assistance.
Contact details such as GES General.
Enquiries Telephone Numbers. GES Postal.
Digital And Physical Address and GES
Social Media Handles.
GES Questions & Complaints
Toll Free Telephone Number
Call:(0800-900-101)
GES General Enquiries
Telephone Number
Call: (233) 302 673-957
Source: obotanweb.com