EDUCATION
2023 school selection and placement system procedure – Download form / Watch Video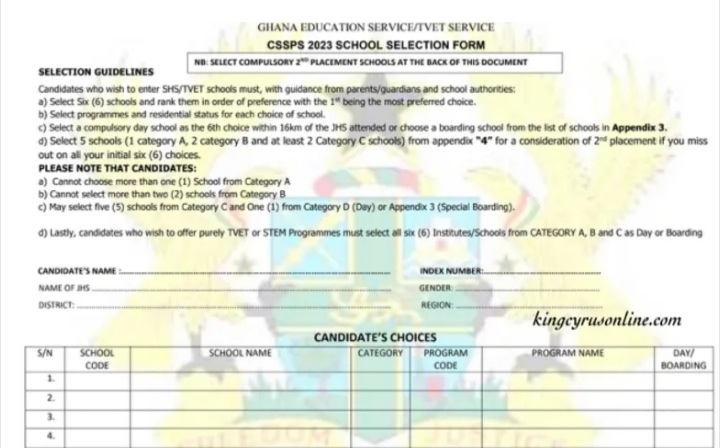 Here is the 2023 school selection and placement system procedure (form) for all BECE graduates who completed their exams this year.
GES has scheduled 11th August, 2023 as the starting day for the exercise. Hence, all parents, teachers and candidates are required to check through the forms and go through the necessary training to ensure a successful exercise.
According to the management of GES,  graduate of the 2023 BECE stand a chance to select up to 11 schools that are split into two groups using the Computerised School Selection and Placement System form.
The Guidelines:
Candidates who wish to enter SHS/TVET Shools must, with guidance from parents/guardans and school authorities:
a) Select Six (6) schools and rank them in order of preference with the 1″ being the most preferred choice.
b) Select programmes and residential status for each choice of school.
c) Select a compulsory day school as the 6th choice with 16km of the JHS attended or choose a boarding school from the list of schools from Appendix 3.
d) Select 5 schools (1 category A, 2 category B and at least 2 Category C schools) from Appendix"4″ for a consideration of 2xd placement if you mis out on all your initial six (6) choices.
PLEASE NOTE THAT CANDIDATES:
a) cannot choose more than one (1) School from category "A".
b) cannot select more than two schools from Category "B".
c) may select fve (5) schools from Category C and One (1) from Category D (Day) or Appendix 3 (Special Boarding).
d) Lastly, candidates who wish to offer purely TVET or STEM Programmes must select all six (6) Institutes/Schools from CATEGORY A, B and C as Day or Boarding.
2023-school-selection-form-DOWNLOAD