SCHOLARSHIPS
How to Apply for DAAD Scholarship Courses for International Students – 2023/2024
DAAD Scholarship Application Portal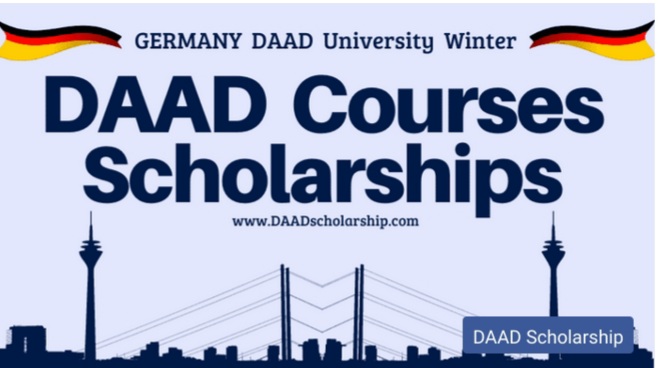 How to apply for DAAD Scholarship Courses for International Students including scholarships for teachers from Afric 2023/2024
The German Academic Exchange Service (DAAD) offers scholarships for master's and PhD programs in Germany. They provide various programs specifically for African students, including scholarships for teachers in technical subjects and education management.
A student seeking for scholarship in DAAD are advised to submit an online application without any application fees.
Duration for DAAD Scholarship (German University Winter Courses)
The duration for DAAD Scholarship for the German university courses will only last for 6 weeks starting from January 2024 and will be ending on February 2024. However, interested applicants are expected to submit their online application by ending of 15th August 2023.
Programs Offered at German University Winter Courses  – DAAD Scholarship 
An applicant might be wondering which Courses are studied at German University Winter Courses- DAAD Scholarship. To this interested applicants kindly click on this link (DAAD SCHOLARSHIP COURSES) to all the programmes and other related courses offered. Click Here to view more on the courses.
Who can apply?
Applications are open to students and graduates as well as doctoral candidates in any subject area.
Undergraduate students must have completed at least two academic years when the scholarship period starts.
Students in the last year of a study programme are eligible to apply if they continue their studies in a postgraduate study programme shortly after completing their undergraduate degree. Please submit a letter of confirmation from your university as proof.
How to Apply for DAAD Winter Courses 2024
The application process for DAAD Winter Courses 2024 may vary depending on the specific program you are interested in. However, here are some general steps you can follow to apply:
Visit the DAAD website or the official website of the specific program to explore the Winter Courses offered in 2024. Take note of the eligibility criteria, application requirements, and deadlines for each course.
Select the Winter Course that aligns with your academic and professional interests. Ensure that you meet the eligibility criteria, such as required academic qualifications or language proficiency.
Prepare all the necessary documents for your application. This may include a CV, motivation letter, academic transcripts, language certificates (if required), letters of recommendation, and a valid passport.
Visit the DAAD website and create an account on their online application portal. Fill in the required personal information and generate a "DAAD ID" that you will use throughout the application process.
Log in to the DAAD online application portal with your credentials and complete the application form for the specific Winter Course you wish to apply for. Fill in all the required information accurately and thoroughly.
Upload all the required supporting documents as per the guidelines provided in the application form. Make sure to adhere to the specified file formats and size limits.
Carefully review all the provided information, documents, and declarations before submitting your application. Once submitted, you will receive a confirmation email.
What To Do After Submitting Your Applications for DAAD Scholarship in German University Winter Courses
Keep track of your application status through the DAAD online application portal. You may also receive notifications and updates via email regarding the status of your application.
The selection process may take some time, so be patient. If you are shortlisted, you may be invited for an interview or asked to provide additional documents.
Accept the scholarship and prepare for the Winter Course. If you are selected for the DAAD Winter Course, you will receive an acceptance letter or email. Follow the provided instructions and guidelines for accepting the scholarship and preparing for the course.